Press Releases 2022
Ergebnisse der einjährigen Lübecker Studie ELISA zur Überwachung der Coronainfektionen: Gezielte Überwachung stützt Bewältigung der Coronapandemie
Details

21.04.2022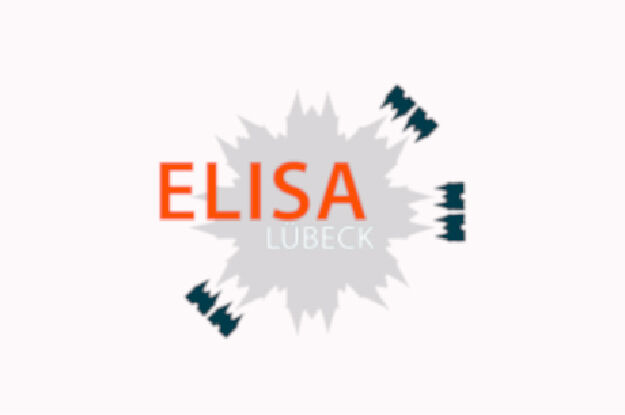 Die größte norddeutsche Untersuchung zur Verbreitung des Coronavirus SARS-CoV-2 in der Bevölkerung wurde beendet. Die Forschenden der Universität zu Lübeck und des Forschungszentrums Borstel geben in ihrer abschließenden Veröffentlichung zur ELISA-Studie klare Empfehlungen für die Zukunft.
Pressemitteilung der Universität zu Lübeck vom 20.04.2022
Seit Beginn der Coronapandemie Ende 2019 beschäftigt kaum ein Thema die Wissenschaft so intensiv wie die Infektion mit dem schweren akuten respiratorischen Syndrom Coronavirus 2 (SARS-CoV-2) und ihre Erkrankung COVID-19. Doch wenige Studien geben Aufschluss über die Dynamik der Infektionsraten von SARS-CoV-2 in definierten Kohorten oder über Risikofaktoren der Infektion. Außerdem fehlt es an wirksamen Überwachungsstrategien des Infektionsgeschehens über einen längeren Zeitraum. Diese Informationslücke soll die Auswertung der einjährigen bevölkerungsbasierten Längsschnittstudie ELISA aus Lübeck schließen. Das 30-köpfige Forschungsteam aus Lübeck und Borstel veröffentlichte nun die Ergebnisse in der Fachzeitschrift Science Advances.

Welche Präventionsmaßnahmen sind wann und wie lange in einer Pandemie wirksam, was treibt die Pandemie an und welche Bevölkerungsgruppen unterliegen dem höchsten Infektionsrisiko? Das sind Fragen, die seit Beginn der Pandemie immer noch nicht klar zu beantworten sind. Das liegt möglicherweise an den vielen bisherigen Studien, die an eher kleineren Studienpopulationen in bestimmten Regionen durchgeführt und häufig nur im Querschnitt oder in kurzen Zeiträumen erhoben wurden. Auch eine Bewertung der Daten durch die Gesundheitsbehörden erfolgte, wenn überhaupt, bisher nur mit unzu-reichender Qualität. 
Umfassende Datenerhebung

Um diese Datenlücken zu schließen und die wichtigsten Fragen zu beantworten, wurde vor zwei Jahren die größte norddeutsche Studie zur Verbreitung des SARS-CoV-2 in der Bevölkerung ins Leben gerufen. Unter der Leitung des Lübecker Sprecherteams, bestehend aus Prof. Dr. Christine Klein (Institut für Neurogenetik), Prof. Dr. Jan Rupp (Klinik für Infektiologie und Mikrobiologie) und Prof. Dr. Alexander Katalinic (Institut für Sozialmedizin und Epidemiologie), startete die erste prospektiv überwachte, bevölkerungsbasierte Längsschnittstudie ELISA (LübEcker Längsschnittuntersuchug zur Infektion mit SARS-CoV-2). Dem öffentlichen Aufruf zur Teilnahme an der Studie folgten über 7000 Lübecker Bürgerinnen und Bürger, die sich mittels App für die Studie registrierten. Rund 3000 Menschen, die ca. 1 Prozent der Bevölkerung im Einzugsgebiet repräsentieren, wurden in die Studie eingeschlossen. Über einen Zeitraum von einem Jahr, das zwei Lockdown-Phasen mit Unterbrechung durch Lockerungsmaßnahmen umfasste, wurden an sieben Untersuchungszeitpunkten rund 20.000 PCR- und Antikörpertests und mehr als 90.000 detaillierte App-basierte Datensätze zu Symptomen, Mobilität, pandemiebezogenem Verhalten und Lebensqualität erfasst. "Ein besonderer Dank gilt an dieser Stelle den Studienteilnehmerinnen und -teilnehmern, die durch die große Rücklaufquote der Fragebögen für zuverlässige Daten in der Studie gesorgt haben", lobt Prof. Christine Klein, die Mitinitiatorin der ELISA-Studie.
Erkenntnisse nach einem Jahr Pandemie
Die PCR- oder Antikörper-Seropositivität blieb über den gesamten Studienzeitraum niedrig. Insgesamt 3,5 Prozent der Studienteilnehmerinnen und -teilnehmer waren nach einem Jahr Antikörper positiv und/oder hatten ein positives PCR-Testergebnis - weit weg von einer Herdenimmunität. Das höchste Risiko einer SARS-CoV-2 Infektion war bei Personen des Gesundheitswesens zu beobachten, insbesondere bei Pflegepersonal, aber auch bei Polizei und Feuerwehr. Erstaunliches ergab die Analyse der vermeintlichen Infektionstreiber: Im Rahmen der ELISA-Studie zählten weder der massive Touristenzustrom im Sommer noch die Nutzung des öffentlichen Nahverkehrs, Restaurantbesuche oder Schulen zu den Pandemietreibern im Norden. Der stärkste Risikofaktor war der Kontakt zu COVID-19-Infizierten. Einen Zusammenhang konnte die Studie zwischen dem Rückgang der Nutzung von öffentlichen Erholungsgebieten nach dem Sommer und dem Anstieg der SARS-CoV-2-Infektionen aufdecken, vermutlich durch vermehrte Aktivitäten in Innenräumen.
Durch das einzigartige Studiendesign konnte der Forschungsverbund zeigen, dass intensive Testungen für das Einschätzen der tatsächlichen Infektionsrate notwendig sind, dass Lockerungen von Lockdown-Maßnahmen unter bestimmten Voraussetzungen zugelassen werden können und dass die ELISA-Studie ein geeignetes Modell für eine wirksame, bevölkerungsbasierte Überwachung von Pandemien darstellen kann.
ELISA-Studie verlängert
Die Studie wird aktuell um einen weiteren Untersuchungszeitpunkt erweitert. Um ein mögliches Wiederaufflammen der Corona-Pandemie im Herbst untersuchen zu können, bemüht sich die Studiengruppe derzeit um eine weitere Verlängerung der ELISA-Studie. Die Studienteilnehmerinnen und -teilnehmer sind erneut zur Unterstützung aufgerufen. Im Fokus liegt nun die Analyse der Antikörper und ihrer Stabilität, die nach Impfung und/oder Erkrankung gebildet werden. Die zukünftigen Ergebnisse sollen zusätzlich Aufschluss darüber geben, wie sich die Pandemie in Bezug auf Infektionszahlen und mögliche neue Virusvarianten im Spätsommer und Herbst weiterentwickelt.


Originalpublikation:

C. Klein, M. Borsche, A. Balck, B. Föh, J. Rahmöller, E. Peters, J. Knickmann, M. Lane, E. Vollstedt, S.A. Elsner, N. Käding, S. Hauswaldt, T. Lange, J.E. Hundt, S. Lehrian, J. Giese, J. Kramer, C. Twesten, C. Sina, G. Gillessen-kaesbach, H. Busch, M. Ehlers, S. Taube, J. Rupp, A. Katalinic, One-year surveillance of SARS-CoV-2 transmission of the ELISA cohort : A model for population-based monitoring of infection risk, 5016 (2022).

Ansprechpartner*innen:

Prof. Dr. Christine Klein
Direktorin des Instituts für Neurogenetik und
Sektion für Klinische und Molekulare Neurogenetik der Neurologischen Klinik
Universität zu Lübeck
Email: christine.klein(at)neuro.uni-luebeck(dot)de